I ordered it from Precision Airgun And Supplies. It came in yesterday. I have to say it is a beautiful gun. The blueing is flawless. The stock is poplar but it looks great, Like if it was walnut.
A few pictures. I took them with my phone so they are not the greatest.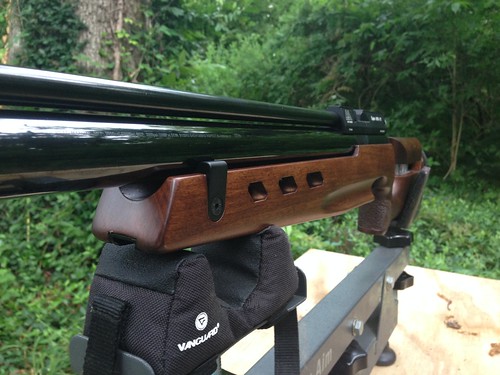 Now for the mods:
Last night I took the trigger apart and polished all the components. Added a guide for the trigger weight spring and cutter the spring some. Adjusted to my liking but I'll fine tune once I start shooting. Sorry no pictures
I made a wind indicator that attaches to the air tube. I used aluminum tubing from lowes.
I'm waiting for the scope rings to come in. I'll be using a Mueller 8-32x44. This scope's glass is extremely clear. I have an elevation knob with it. I'll have to do the tape with all the click for the different distances.
I designed a scope wheel for it It will be 3D printed. I found a local place to printed for me for $40. The places online wanted $50-$80.
If you want look at it in more detail click here
http://shpws.me/tvGq
Once The scope rings come in I'll zero it and tune it to shot JSB 8.44 around 780-800fps. That will keep it right under 12lbs.
Items that are coming: But pad extensions, Palm Rest, Sports match rings with elevation adjustment and tons of pellets.